Dependable Air Conditioning Repairs Throughout Eastern NC
When you live in Eastern NC, you rely on AC to cool your home or business during much of the year. When you need air conditioner repair, you look for a company you can trust to make fast, accurate repairs and charge a fair price. Jackson & Sons is located just outside Goldsboro, NC and has provided air conditioner repairs in Wayne, Johnston, Pitt and surrounding counties for over four decades. We are known for our knowledgable AC technicians, our focus on energy efficiency, and our commitment to customer service.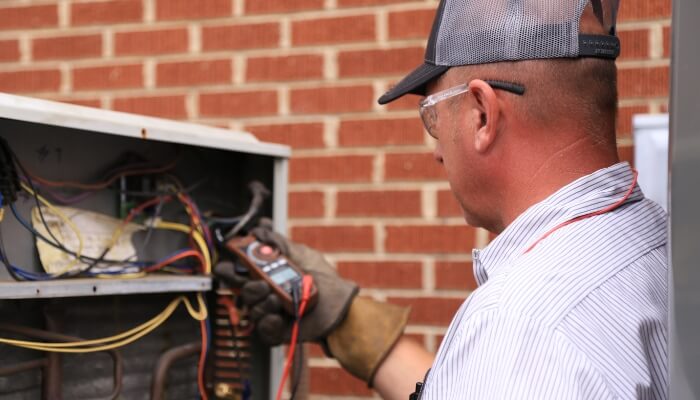 Why is my AC running but not cooling?
An AC running but not cooling could be due to several reasons. It might have a refrigerant leak, causing inadequate cooling. A dirty or clogged air filter, evaporator coil, or condenser unit can impede airflow and cooling efficiency. Electrical issues, malfunctioning thermostats, or a faulty compressor might also be the cause. It's advisable to check and replace air filters, clean coils, and ensure proper power supply. If the problem persists, consulting a professional HVAC technician is recommended to diagnose and rectify the underlying issue.

How do I know if my AC is low on Freon?
Signs of low refrigerant (Freon) in your AC system include:
Warm Air:

The AC blows warm air instead of cold air, indicating insufficient cooling capacity.

Poor Cooling Performance:

The AC struggles to cool your home adequately or takes longer to reach the desired temperature.

Frozen Coils:

Low refrigerant can cause evaporator coils to freeze due to inadequate heat absorption.
Short Cycling:

The AC frequently turns on and off rapidly, which can be a sign of low refrigerant levels.
If you suspect your AC is low on refrigerant, it's essential to have a professional HVAC technician inspect and diagnose the issue. Refrigerant leaks should be addressed promptly by experts to prevent further damage and ensure your AC's proper function.
How do I know if my AC compressor is bad?
Signs of a failing AC compressor include warm air blowing from vents, unusual noises like grinding or rattling, frequent tripped circuit breakers, excessive vibrations, refrigerant leaks, difficulty starting, and increased energy bills. If you observe these symptoms, it's advisable to consult an HVAC professional. They can accurately diagnose the issue, assess the compressor's condition, and provide recommendations for repair or replacement based on the severity of the problem.
If your air conditioner stops working altogether and you need a repair right away, Jackson & Sons will be happy to help. Simply call our office at 919-734-9611 to schedule an appointment. We provide emergency repairs after hours, weekends and holidays. Simply call, 919-734-9611 for immediate assistance.
If you notice any of these symptoms, call Jackson & Sons for AC diagnostic and repair services:
Your air conditioner is not cooling your home or business to comfortable temperatures
Uneven temperatures that vary from room to room
Loud "clunking" noises when your air conditioner is running
Energy bills that are higher than normal
Poor indoor air quality