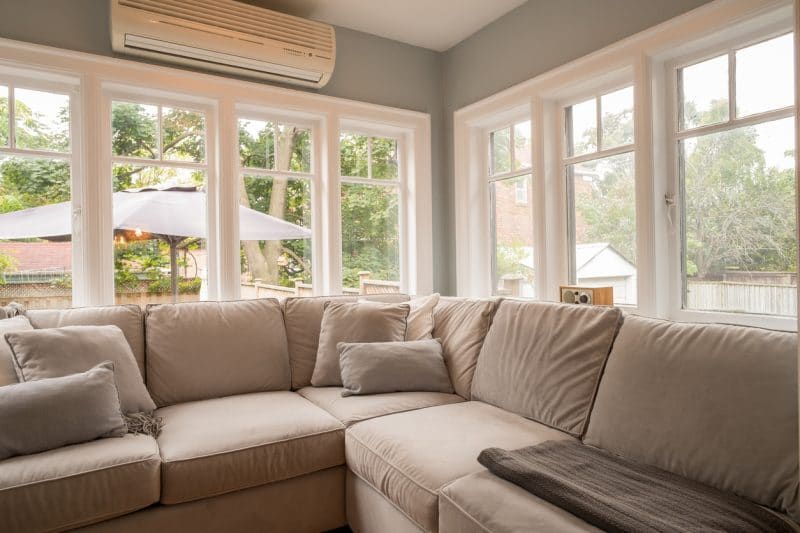 Sunrooms and screen rooms are popular with Eastern North Carolina homeowners for good reasons: they extend a home's living space while providing shelter from rain and protection from mosquitoes and other pests. Since these spaces are often a converted porch or addition, rather than part of a home's conditioned envelope, they can become unusable when the weather gets hot and sticky. If you're looking for a way to make this protected outdoor space enjoyable all summer long, here are some effective screen and sunroom cooling options to consider:
Install Outdoor Ceiling Fans
If you have a screen room that can't be air conditioned, installing one or two ceiling fans can help make the space more comfortable whenever it's occupied. With the fans running, you'll enjoy a wind chill effect that helps perspiration evaporate and cools the skin.
Invest in Removable Glass Inserts
You can convert a screen room into a sunroom that you can air condition by investing in glass inserts to cover the screens. Since the panes are removable, you can still enjoy fresh air in the spring and fall when outdoor temperatures are more moderate.
Extend Your Home's HVAC
If you'd like to be able to use your sunroom year-round, an experienced HVAC pro can advise you whether it's possible to extend the ductwork and use your existing HVAC system for cooling. To do so, your duct system may need modification to ensure that the system's airflow stays balanced. If your current cooling equipment doesn't have sufficient capacity to handle the added square footage, you may need to upgrade.
Add a Ductless Unit
A ductless mini-split can be a cost-effective and convenient option for cooling your sunroom. These stand-alone units aren't connected to your main HVAC system, and they don't require any ductwork, so you won't have the headaches and additional cost of modifying your existing system. With a mini-split or main HVAC extension, you'll want to insulate and air seal your sunroom to cool the space without wasting energy.

For personalized advice about the best screen room or sunroom cooling options for your home, contact us today at Jackson & Sons.

Jackson & Sons, Inc.

Our goal is to help educate our customers in Eastern North Carolina (including Wayne, Johnston, Greene, Lenoir, Pitt and Duplin Counties) about energy and home comfort issues (specific to HVAC systems).

Credit/Copyright Attribution: "iStock"

HVAC Lifespans for Components » « Ways Carbon Monoxide Detectors Keep Your Family Safe