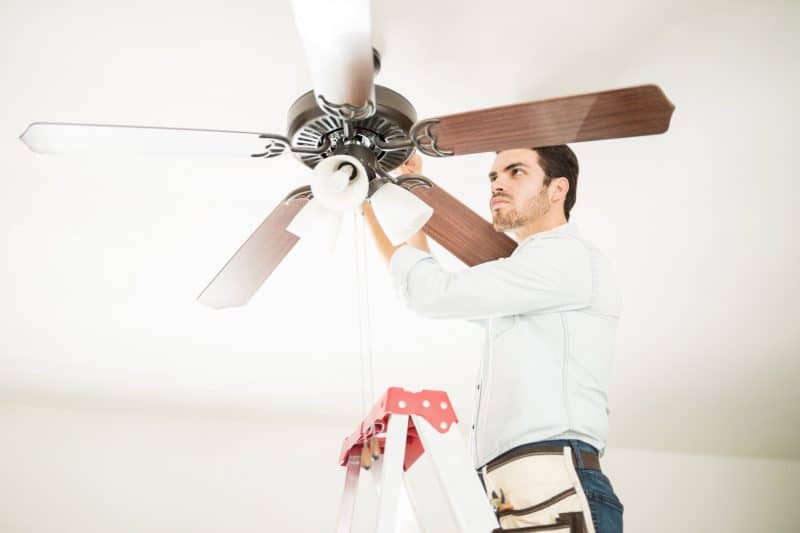 As the seasons change, so should your ceiling fan direction.
Ceiling fans were actually the first electric comfort appliance installed in homes, becoming widespread by the 1920s. Even now in the 21st century, the ceiling fan is a helpful adjunct to your HVAC system in both winter and summer.
Depending on the direction of rotation, the air motion provided by a ceiling fan helps redistribute rising furnace heat during the cold times of the year and its gentle circulation also enhances the perception of coolness in rooms during warm months. Because today's efficient fans consume far less electricity than your HVAC system, taking full advantage of these units helps reduce costs and increase indoor comfort.
Saving in Summer
During summer months, the goal is to direct air downward from the fan blades into the room. This movement of air provides a small version of the "chill factor" we experience outdoors on a windy day in winter. Occupants of the room feel slightly cooler without actually lowering the temperature in the room. This permits you to keep a slightly higher A/C thermostat setting without any decrease in perceived cool comfort. Every little bit helps: for each degree you raise the thermostat setting in summer, you can reduce cooling expenses by up to three percent.
Making the Switch
Most ceiling fans have a directional switch on the side of the fan motor. Fan direction on the switch may be indicated by the designation "Forward" and "Reverse" or by "Winter" and "Summer." If your fan has a remote control, the remote may also incorporate a directional switch.

The proper ceiling fan direction for the air conditioning season is "Forward" or "Summer." To check for yourself, stand underneath the fan when it's running and look straight up into the blades. From that perspective, the blades should be rotating in the counter-clockwise direction and you should feel a gentle downward breeze on your face.

For learning more about increasing the comfort in your home while decreasing costs this summer, contact the experts at Jackson & Sons.

Jackson & Sons, Inc.

Our goal is to help educate our customers in Eastern North Carolina (including Wayne, Johnston, Greene, Lenoir, Pitt and Duplin Counties) about energy and home comfort issues (specific to HVAC systems).

Credit/Copyright Attribution: "iStock_Antonio_Diaz"

Out of Town: Prep Your HVAC for Your Vacation » « 3 Reasons to Teach Children about HVAC and Energy Efficiency