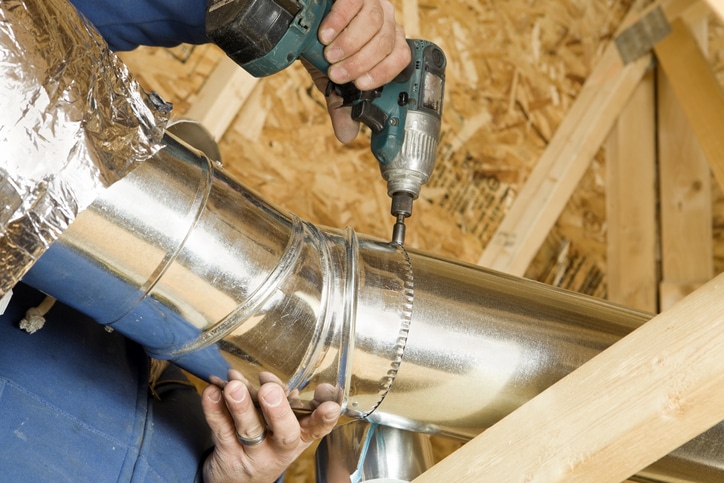 Ductwork is a vital component of your heating and cooling system. With the correct installation of ductwork, your HVAC system will be most effective, and the interior comfort of your home will be desirable for you and your family.
Duct material is broken down into two major categories: flexible and rigid. Your HVAC professional will recommend the best material or combination of what is needed for your ductwork which will depend greatly on the structure and layout of your house.
Flexible
The core of flexible ductwork contains a metal coil. It is then covered with a flexible material such as plastic and insulated with a thermal insulation material such as glass, wool, polyethylene, or metalized PET. As the name applies, flexible ductwork can bend around fixed structures to work in almost any space. It is very important to avoid punctures, kinks, and sags in this type of ductwork as these will hurt the performance of the HVAC system and will require a service call to your HVAC provider.
Rigid
As the name suggests, rigid ductwork is made of sturdy, unyielding materials. This ductwork can be customized to fit the size and shape of each individual project. Additionally, rigid ductwork is durable and will last many years.
The three major types of rigid ductwork are sheet metal ducts, fiberglass-lined ducts, and fiberboard ducts. Each one has its own unique benefits.
Sheet Metal Ducts
Galvanized steel or aluminum is the most commonly used material for ductwork. A fabrication process is used to cut and bend sheet metal into cylindrical or rectangular shapes for a specific ductwork design. Metal duct material offers homeowners the benefit of a reduced fear of mold, since mold doesn't grow on the nonporous material.
Fiberglass-Lined Ducts
These ducts are similar to sheet metal ducts with the added feature of a fiberglass lining. Generally used in commercial projects, the lining offers the added feature of sound reduction in larger buildings.
Fiberboard Ducts
Fiberboard ducts are made from a resin-bonded fiberglass that has been encased in a foil sheet. The laminate protects from moisture, although due to dust and other debris getting trapped in the crevices, long term air quality and efficiency are a potential concern.

Choosing the right ductwork comes down to the overall design, needs of the structure such as heat retention or noise reduction, and budget.

For more information about the best duct materials for your project, contact Jackson and Sons. Proudly serving Eastern North Carolina since 1974.

What You Can Do to Lessen the AC Strain on Your System This Summer » « Why Ceiling Fans Are So Integral to Cooling Savings During Summer