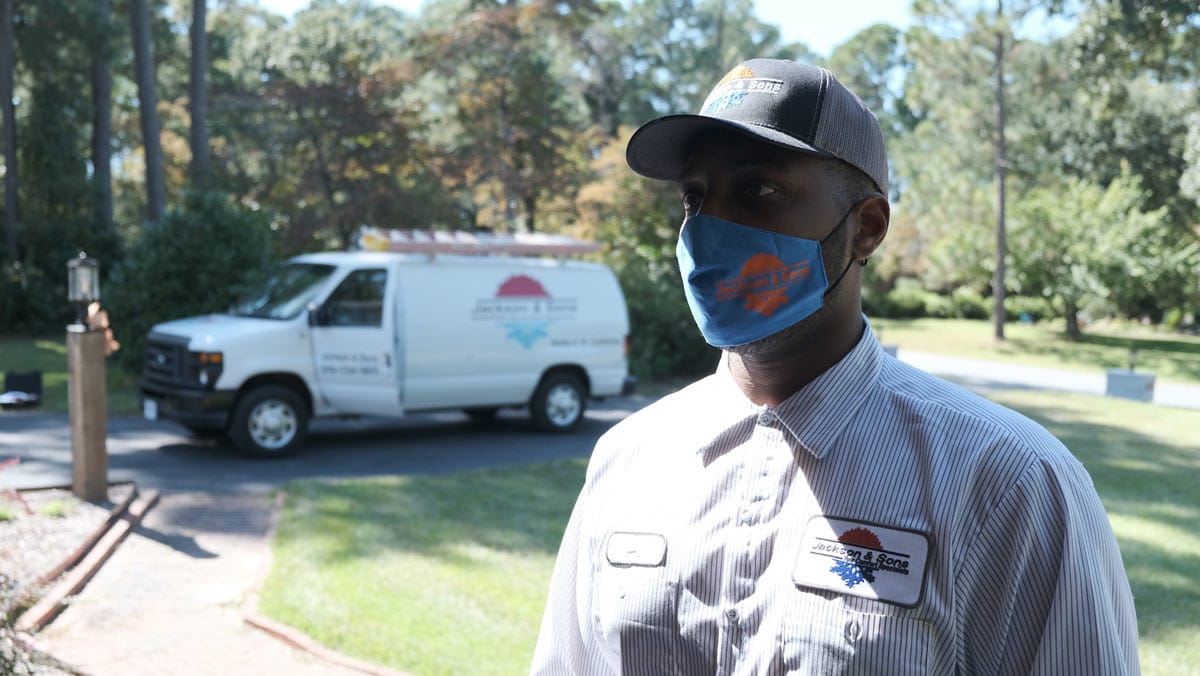 HVAC stands for heating, ventilation, and air conditioning, and it encompasses all aspects of conditioning your home comfortably, affordably, and safely. That covers a lot of ground. So, you may wonder what you need to know to talk to your HVAC technician during a maintenance service, repair, or installation call. Here are some of the most popular HVAC questions that can help.
1st: Can I Save Energy with a Smart Thermostat?
Smart thermostats give you the convenience of keeping your home comfortable and saving energy by "learning" your preferred temperature settings. This saves you energy by doing the temperature adjustments for you. Smart thermostats may be controlled via your smartphone using an app, allowing you to easily control the comfort of your home or business from remote locations. Ask your HVAC professional to share more of the advantages such as being able to diagnose some HVAC issues remotely.
2nd: What's the Best Way to Improve IAQ?
With spring upon Eastern North Carolina, the air is full of allergens and contaminants that can build up inside sealed homes. The best solutions to combat contaminants and improve indoor air quality (IAQ) include installing a system enhancement that specifically works to providing better indoor air quality such as a system air purifier system, a pleated MERV rated air filter, an ultraviolet light, or a whole system dehumidifier. Which system enhancement product(s) will better serve your home can be discussed with your HVAC professional who can answer any questions you may have.
There are air purifier systems that are installed inside your HVAC system to offer whole-home air purification. Independent lab studies show that there is an air purifier product now available through select HVAC contractor partners that safely neutralizes COVID-19 and the Human coronavirus by 99.4% and by 90%, respectively.
The pleated MERV filter fits into the slot of HVAC system returns. Yet, it offers several more inches of dense, particulate-capturing media through its unique design. This type of air filter works to minimize the dust levels in the indoor air you breathe and debris from collecting on the mechanical parts of your heating and air system.
The UV light is a type of air purification that works from inside your HVAC system as well and utilizes ultraviolet light to disinfect air as it flows through your ductwork. This sanitation device kills mold, mildew, fungus and other harmful bacteria on the surfaces of your HVAC system's coils, and in your ducts. The UV light is extremely effective in humid climates, where evaporator coils can easily get wet and become a breeding ground for mold and mildew.
Installing a whole house dehumidifier will keep the air in your home drier and put an end to problems caused by excess humidity. Too much moisture in the air can cause serious issues for your home, such as mold. Dehumidifiers help reduce the incidence of this problem by removing moisture particles that will allow for mold to grow. Other issues with your home can include problems with wood flooring or furniture, and possible odor from humidity. Since dehumidifiers help to clean the air, your HVAC system doesn't have to work as hard to weed out those particles and can cool more efficiently. The results are a healthier, cleaner air inside the dwelling, which is a huge benefit to those with allergies and other health issues.
3rd: Are HVAC Maintenance Plans a Good Deal?
Absolutely! With a spring/summer and fall/winter scheduled system tune up, an HVAC Maintenance Plan will keep your HVAC system in tip top condition. Furthermore, you receive priority service and discounts on repairs, and it helps to lower energy costs. Also, HVAC manufacturers expect their systems to be maintained, and well-kept for warranty to remain valid.

If you have questions about your heating and air system, would like to know more about a maintenance plan or need to schedule a service, please contact the professionals at Jackson & Sons.

You May Have More HVAC Options for Older Homes Than You Thought » « AC Efficiency Is Essential As the Weather Heats Up