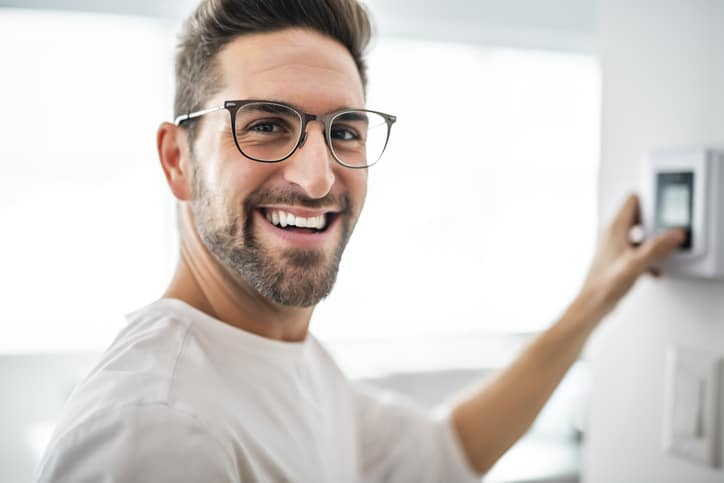 An energy-efficient home heater is one that keeps your house at consistently comfortable temperatures at the lowest possible cost. When efficiency isn't optimal, you'll notice higher monthly bills, declining indoor comfort, and sometimes even system unreliability that requires service calls and repairs.
What's Your AFUE?
The energy efficiency of a furnace varies according to the manufacturer's specific model. Every gas-fired furnace has an AFUE rating (Annual Fuel Utilization Efficiency) as prescribed by the U.S. Department of Energy. Typically included in the manufacturer's specifications, the AFUE for a particular furnace model is a simple percentage indicating the amount of generated heat that actually contributes to warming your home as opposed to the amount lost in the heating process, such as heat energy that is exhausted up the vent along with combustion fumes.
A qualified HVAC contractor can provide helpful information to make the right decision on the best efficiency choice for you. Here are typical categories in AFUE ratings:
AFUEs up to 70 are considered a standard rating. This means that at least 30% of the generated heat is lost in the heating process. Thus, it's the least-efficient rating but also generally the most affordable units to purchase.
An AFUE of 80% represents the middle-efficiency units with better-than-standard performance and operating costs and a steeper price tag.
AFUEs ranging from 90% up to 98% are high-efficiency furnaces. These units generate the most heat at the lowest energy cost. However, high-efficiency furnaces have a substantially higher purchase price, and installation is also more complex. Over time, the lower operating costs from reduced energy consumption will compensate for these higher upfront expenses.
Other Factors Matter Too
A furnace AFUE rating isn't written in stone. Efficiency can be negatively impacted by other circumstances, such as improper installation by unlicensed installers and/or a lack of annual heating system maintenance by a certified HVAC technician, as is required by most manufacturer warranties.

For more details about making an informed choice in energy-efficient heating, contact the professionals at Jackson & Sons.

How an Air Purifier Can Help You During the Winter » « What Is Unhealthy Heat When It Comes to Setting Your Thermostat?