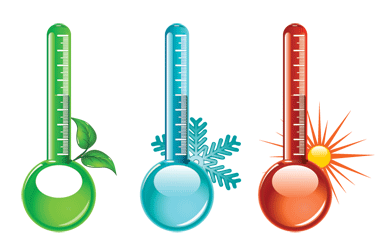 Are you having trouble keeping your home at a comfortable temperature? Does the first floor remain at your chosen thermostat setting while the second floor is always uncomfortably warm? If so, your home would likely benefit from HVAC zoning because it allows you to maintain comfort settings for different rooms or floors by grouping them into zones that are controlled by their own thermostats. Read on to learn whether total comfort control with a zoning system is right for your home.
HVAC Zoning Systems
Zoning systems feature add-on HVAC equipment that regulates airflow through the ducts and rooms based on the zones in use. This task is accomplished using motorized dampers in the ductwork that open or close depending on the thermostat setting for each zone. You can easily adjust temperatures in each zone at a central panel or install a programmable thermostat for automatic savings and comfort.
Is Zoning Right for Your Home?
The beauty of a zoning system is that it provides you energy savings without sacrificing comfort. How many times do you adjust the thermostat to save energy even though it results in a loss of comfort? With zoned temperature control, you don't have to.
Some elements of home design compel zoned temperature control if everyone is to be comfortable. Homes with multiple levels of living space are a good example, as well as homes with sprawling floor plans or substantial heat gain and loss on one side of the home due to expansive glass. Following are other examples of homes that would benefit from HVAC zoning:
Homes with retrofitted basements and attics
Rooms or apartments above a garage
Homes with open spaces and cathedral ceilings
Household occupants that want or need specific temperature settings
The list could go on, but zoning is unique to each home. The best way to determine if HVAC zoning is right for your North Carolina home is to speak with a qualified HVAC technician. To learn more, please contact Jackson & Sons .

Our goal is to help educate our customers in Eastern North Carolina (including Wayne, Johnston, Greene, Lenoir, and Duplin Counties) about energy and home comfort issues (specific to HVAC systems).  For more information about HVAC zoning and other HVAC topics, download our free Home Comfort Resource guide .

Credit/Copyright Attribution: "jupeart/Shutterstock"

Learn About Return Air Ducts » « Increase Comfort and Savings with a Zoning System