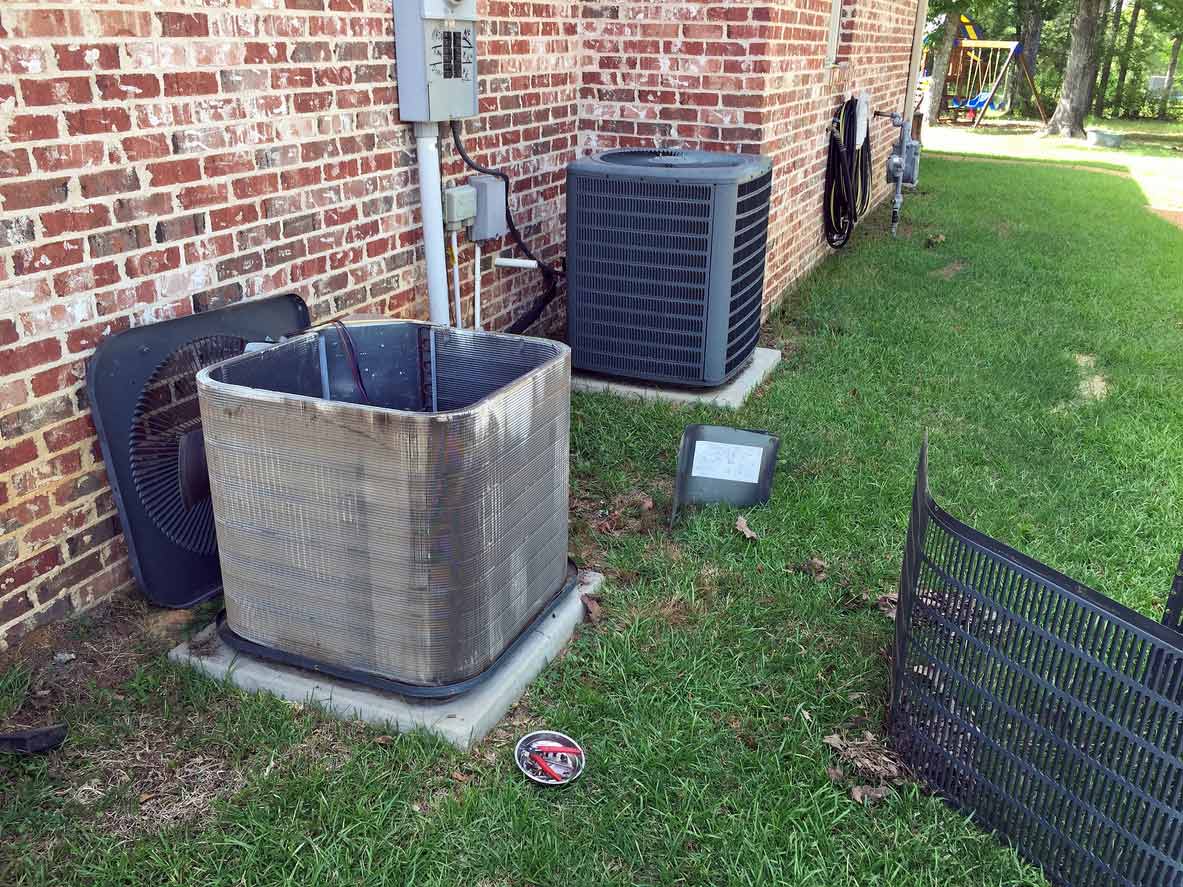 Is an HVAC compressor replacement in your central air conditioner's future? The compressor is the heart of central AC. It's a powerful, 220-volt component which compresses the flow of the refrigerant that extracts heat from your home at the indoor evaporator coil. As compressed refrigerant enters the condenser coil in the outdoor component of the AC, extracted heat is dispersed into the outdoor air. While compressors are built to handle the heavy load in hot conditions, after many years of wear and tear, HVAC compressor failure may become an issue.
Symptoms of a failing compressor range from simple poor cooling performance to total failure of the unit. Here are some of the common compressor issues you may see as your unit gets older:
The AC vents indoors blow warm air.
The circuit breaker controlling power to the outdoor AC unit trips for unknown reasons.
The outdoor unit does not discharge hot air when activated.
The compressor "short cycles" due to overheating or other issues.
The compressor does not actuate at all.
You see an unexplained increase in electricity consumption.
There is noisy operation when the outdoor unit cycles on.
Your options in the event of a compressor failure include:
Repair (if possible). In certain limited cases, a compressor may be repairable. However, replacement of one part in a compressor that has accrued significant wear and tear is often only a very temporary solution.
HVAC compressor replacement under warranty. If the compressor is still under warranty and you are otherwise satisfied with the performance and efficiency of the existing system, compressor replacement under the warranty terms is a good option.
HVAC compressor replacement out of warranty. The compressor is the single most costly component in a central AC. It is therefore worthwhile to compare the cost of replacing the compressor alone with the cost of replacing the entire system. The older the system, the more likely replacement is the best option. Taking this opportunity to upgrade to a new system could provide more advanced cooling technology, improved energy efficiency, and lower operating expenses. You'll also get a new warranty covering all the components of your unit. HVAC companies offer financing options for new systems as well, allowing for paying over time with approved credit from the lender.
For all your heating and cooling needs, contact the professionals at Jackson & Sons.

Learn All About How an HVAC Sensor Works for Your Home Unit » « Learn These Tips to Make Sure There's HVAC Safety at Home