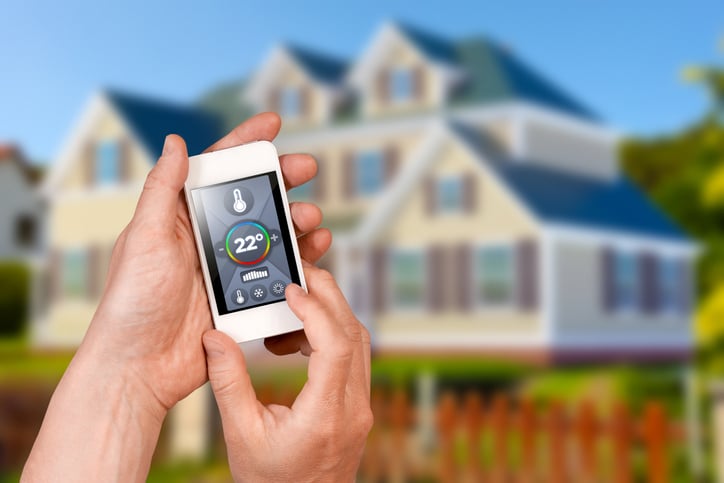 Smartphone HVAC options put management of your home's heating and cooling in the palm of your hand from wherever in the world you may be. Staying connected to your indoor environment when you're not home adds an important sense of control and security.
Remotely monitoring and controlling HVAC functions helps fine-tune your indoor environment as well as control costs. Paired with a Wi-Fi thermostat, a wide range of available smartphone apps are provided by the major brands of HVAC systems, as well as by third-party sources. Many will also interact with other smart home systems. Apps are typically available for Android, iOS, and Windows devices.
Smarter Smartphone HVAC Control
Functionality offered by major manufacturers as well as associated apps vary according to the type and brand of your system. A general summary of what's available includes the following features:
Monitoring and control of the temperature, humidity, and other conditions in the home environment no matter where you are.
Program temperature settings — and revise later if needed — anytime on your phone. Override improper settings that may be made by others in the home (such as children).
Receive important, time-sensitive notifications, including alerts about system malfunctions, power failures, and high and low temperature warnings in case indoor conditions change significantly.
Diagnostic information about malfunctions, including alerts to your HVAC service provider if desired.
Reminders about routine upkeep such as filter changes and scheduling bi-annual professional maintenance with your HVAC contractor.
Statistics about recent heating and cooling usage to make more informed decisions about efficient thermostat settings and money-saving strategies.
Remote control of supporting HVAC components such as home air purifiers, humidifiers, and dehumidifiers, etc.
Geofencing technology that automatically controls specific system functions when you leave the house and as you return.
For more information about the options and convenience provided by smartphone HVAC apps, talk to the experts at Jackson & Sons.

Commercial HVAC's Top Advantages » « The Pros and Cons of Having an Electric Fireplace