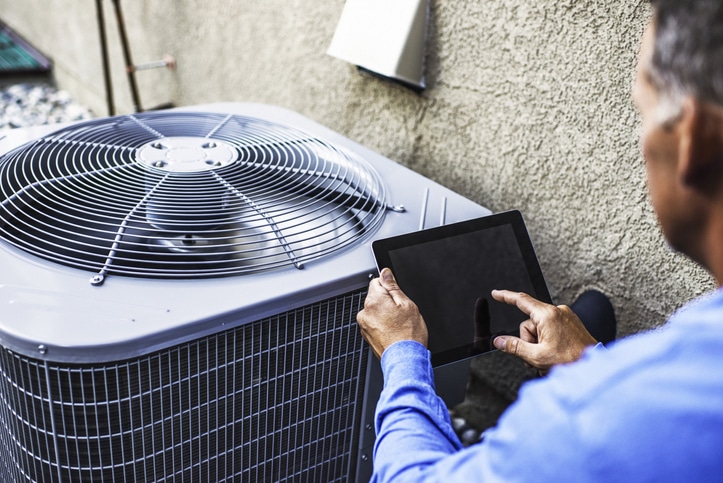 When your central AC needs to start producing cool comfort for your home, HVAC contactors energize the high-voltage components that get the job done. While some parts of a central air conditioner utilize standard 110-volt electrical power, other critical parts like the system compressor need a much stronger jolt.
How do HVAC contactors work?
Most components in a central AC are in standby mode until the thermostat signals to start the cooling cycle. The contactor, which is basically a heavy-duty, spring-loaded switch that responds to signals from the thermostat, actuates to deliver 220-volt electricity to the compressor at very high wattage. To start the compressor in a typical AC and initiate cooling, the initial surge will draw at least 1,000 watts more than the normal running wattage.
Later, after the thermostat's temperature setting has been reached, the thermostat signals the contactor switch to shut off power to the compressor and condenser fan motor. The system then returns to standby mode.
What can go wrong?
HVAC contactors are moving parts affected by both heat and normal wear and tear. After years of service, replacement of a contactor in a central AC is not uncommon. Signs that your system may need a contactor include:
A loud chattering noise from the outdoor unit every time the central AC cycles on.
A continuous humming noise from the unit, even though the cooling cycle does not start.
The thermostat setting is reached but the air conditioner does not shut down and continues to run nonstop.
Why not do it yourself?
Replacement of a worn contactor is hazardous due to high voltage. This is a job that should be left to trained HVAC technicians who have the specialized equipment and experience to replace it safely and accurately.

The professionals at Jackson & Sons are always available to provide any needed HVAC service for your home or business.

What to Do When You Have a Musty Air Conditioner on Your Hands » « How Do You Make Your Commercial AC Comfortable and Efficient?