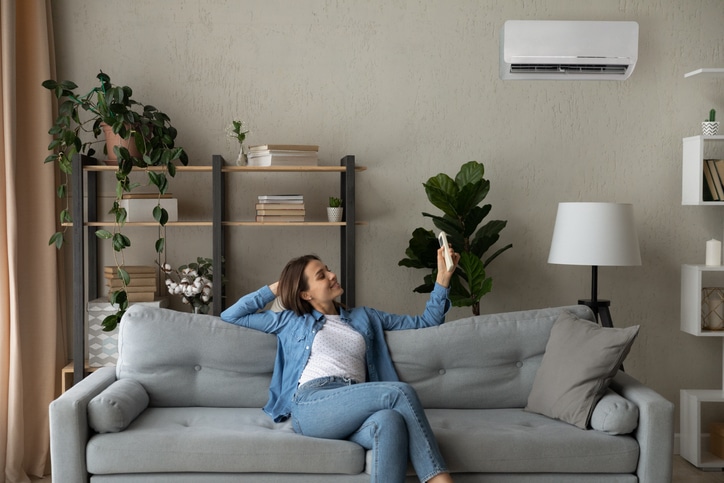 Ductless HVAC units have become increasingly popular in recent years, as they provide an effective solution for certain heating and cooling issues in homes. A ductless mini-split, as they are more commonly known, is actually a downsized heat pump that conditions a limited, designated area such as a single room.
The system combines an outdoor heat pump unit about the size of a large suitcase with a slim, low-profile indoor unit that mounts on a wall and incorporates the cooling and heating coil and a blower. The outdoor and indoor units are connected by a narrow conduit that circulates refrigerant between the two components, requiring only a three-inch hole in an exterior wall.
Benefits of Ductless HVAC
One unit, two functions. Because it's a heat pump, a mini-split combines both heating and cooling in one unit. This eliminates the need for separate AC and furnace sources.
Higher efficiency plus lower costs. Mini-splits provide superior energy efficiency in limited spaces with SEER (Seasonal Energy Efficiency Ratio) ratings from 16 to the upper 20s, equaling or exceeding standard HVAC system efficiency, as well as other options like window units.
Single-room solutions. Perhaps you're adding a new addition or you're converting an existing space such as a basement, attic, sunroom or garage. But maybe you don't want the extra expense of adding additional ductwork to connect to your central HVAC system. An independent mini-split is a perfect alternative with low installation costs and high efficiency.
No ducts? No problem. For a room or rooms needing conditioned air that has no existing ductwork a ductless system can be an economical option. As the name implies, ductless HVAC technology offers a viable solution. It's important to note that a single outdoor heat pump in a ductless system can serve several indoor units. Each indoor unit includes an independent thermostat, enabling different temperatures in different rooms.
The professionals at Jackson & Sons are available for all your home and business heating and air needs. Contact us today!

What Are the Three Most Common HVAC Issues You'll Deal With? » « What to Do When You Have a Musty Air Conditioner on Your Hands