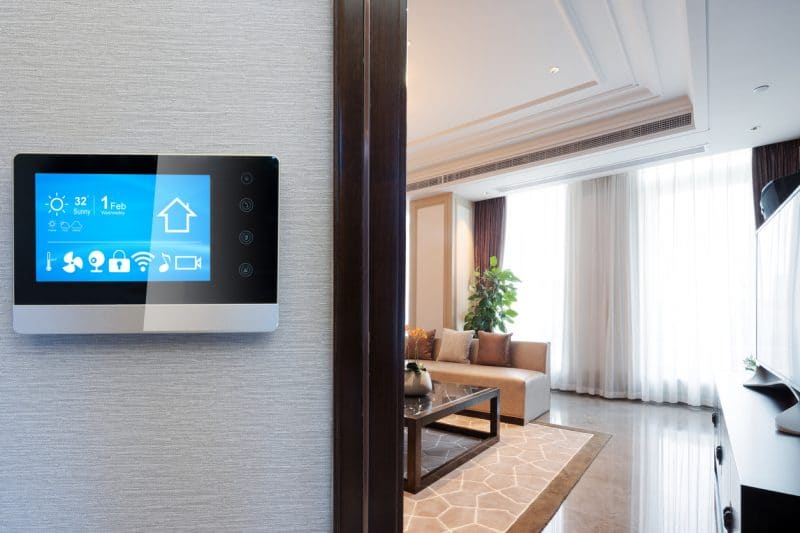 Thermostat options just aren't what they used to be — they're better. The old manual thermostat, a low-tech device that incorporated springs and a mercury switch, was the sole standard for decades. Today, advances in technology along with the impetus for more precise temperature control, improved energy efficiency and enhanced convenience have produced an assortment of new thermostat options.
Consider these modern thermostat options when replacing an old-school manual model or other dated thermostat.
Digital Programmable Thermostats
These basic models enable you to schedule precise temperatures to fit your particular schedule. The programs allow you to input different schedules to accommodate the habits of your household, like waking hours versus sleeping hours or weekdays versus weekends. This frees you from constantly turning the thermostat up or down manually. Digital thermostats also offer other perks such as a vacation setting to maintain a safe, uniform indoor temperature while you're away. Energy savings from more consistent automatic temperature control often pay for the cost of a digital thermostat in about a year.
Wi-Fi Thermostats
These units take digital features to the next level by adding connectivity. A Wi-Fi thermostat connects to your home network and allows full-featured HVAC remote monitoring and control. With a dedicated app, all functions are accessible from anywhere in the world via a smartphone, tablet, or laptop. You can remotely check indoor temperatures, input changes if desired and monitor system status. Wi-Fi thermostats can also send text messages or emails to alert you of any problems, such as temperature extremes or a component malfunction, or remind you of routine maintenance.
Learning Thermostats
These models combine digital features and Wi-Fi options with machine learning technology to accommodate household habits and temperature preferences. A typical unit utilizes sensors to detect occupancy patterns and also gets information about outside weather conditions. Starting with basic standard temperatures, the system analyzes household preferences and daily routines and builds a program that fine-tunes temperature control without input from occupants.

Contact the HVAC professionals at Jackson & Sons for more information about advanced thermostat options and to schedule installation and maintenance.

Jackson & Sons, Inc.

Our goal is to help educate our customers in Eastern North Carolina (including Wayne, Johnston, Greene, Lenoir, Pitt and Duplin Counties) about energy and home comfort issues (specific to HVAC systems).

Credit/Copyright Attribution: "iStock"

What Are the Different Types of Vents in Your Home? » « Air Filters and Indoor Air Quality Concerns: Candles