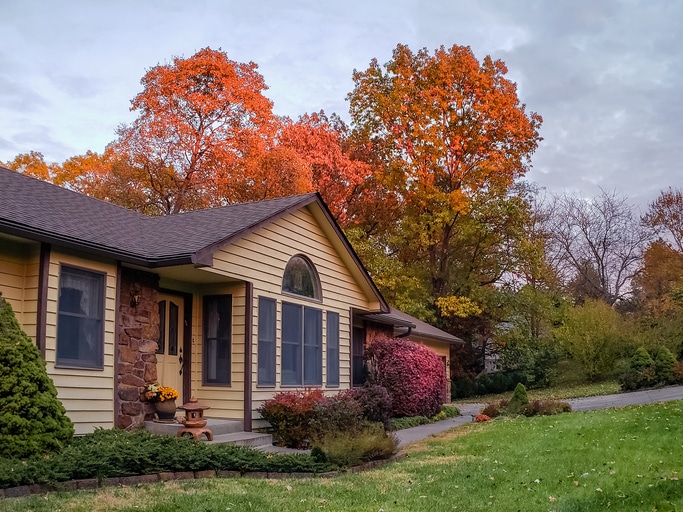 The fall season brings much beauty to Eastern North Carolina as the leaves on the trees begin to show colors of red, orange and yellow. Everything seems to be about fall decorations, pumpkin patches, lattes and even yummy pies. Fall is also a welcome relief from the hot and humid summer conditions. Even though the temperatures can remain on the warmer side, the mornings and evenings are almost a guarantee of cooler more comfortable weather. These cooler temperatures create a great opportunity to improve your home's energy efficiency, make HVAC updates, and enjoy the fresh air of fall. Below are some great tips you can use for transitioning seasons in your home and for your HVAC system.
Use Ceiling Fans
Ceiling fans are great devices for saving energy and maintaining your comfort. During the summer, the ceiling fan should blow air toward the floor to create a cooling wind-chill effect. When transitioning seasons, change the direction your ceiling fans turn to pull air toward the ceiling. This promotes airflow without the cooling wind-chill effect.
Consider a Wi-Fi Thermostat
Install a programmable or Wi-Fi thermostat to help you save energy and stay comfortable according to your schedule. Wi-Fi thermostats may be controlled remotely for convenience. There are also "smart" thermostats available that learn your thermostat settings and will schedule and adjust automatically.
Enhance Airflow
The supply and return vents in your home are an essential element for your heating and cooling system that provides the efficient air flow needed throughout your home. If vents are blocked or closed it can upset the pressure balance causing a decrease of efficiency and even equipment breakdowns or malfunctions may occur. Check your registers to ensure they are open and not blocked by rugs, furniture, drapes, or other items.
Schedule HVAC Maintenance
The time of transitioning seasons is a great opportunity to get your HVAC system tuned up and ready to transition to the cooler months. Professional HVAC maintenance is important if you want to keep your heating system working at peak efficiency for years, save energy, and stay comfortable.

For all your heating and air needs, contact the professionals at Jackson & Sons.

Learn the Best Ways to Deal with Mold in HVAC Equipment » « Your To-Do List for Upcoming Fall Maintenance