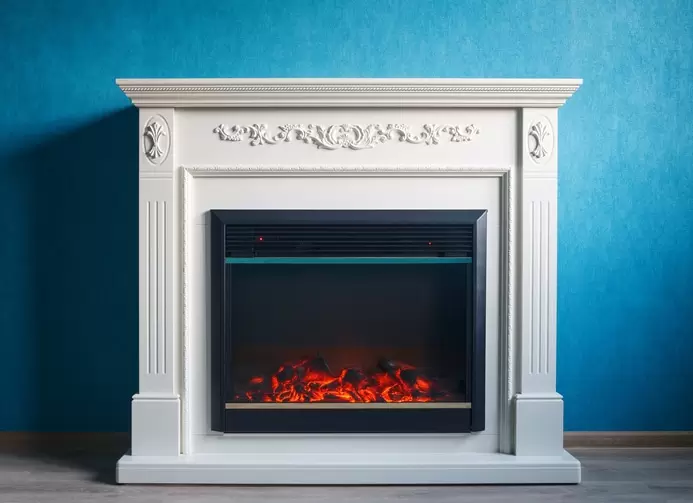 An electric fireplace is an increasingly popular option for providing extra heat to a single room. Many homes don't offer the option of a wood-burning fire because the house was not originally constructed to accommodate this. Also, retrofitting a fireplace into an existing home is often prohibitively expensive.
Here's a summary of the pros and cons of electric fireplaces:
Pros
Electric fireplaces can be added to any home. This happens via simple plug-in installation without alterations to the structure of the house.
Electric fireplaces generate heat. Conversely, more than half of the heat produced by burning wood in a standard fireplace is exhausted up the chimney and thus does not contribute to warmth inside the house.
Operating costs are less than a wood burning fireplace. Unless you have trees on your property that you can cut down which is a big ongoing job, you'll have to buy firewood. The cost of firewood has risen substantially in recent years.
Reduced fire and carbon monoxide hazards. Because nothing is actually burning in electric fireplaces, safety concerns about embers and sparks are eliminated. Also, carbon monoxide and other combustion-related gases are not a factor.
Cons
Electricity required. Some homeowners rely on wood-burning fireplaces for emergency heat during blizzards and/or extreme cold when the local electrical grid may be down. Electric fireplaces cannot function without electrical power.
Single-room-heating only. While a roaring, wood-burning fire may warm larger spaces within the house, indoor air quality is compromised. Heat from electric fireplaces only accommodates single rooms or very limited spaces.
Reduced ambience. Many people enjoy the rustic smell of wood burning, the sound of crackling fire, and the visual appeal of real flames — all of which are part of a wood-burning fireplace. Electric fireplaces cannot fully duplicate that experience.
No Comparison. Nothing compares to the indoor comfort and indoor air quality of a whole house HVAC system.
For more details about the best heating and air system for your home, contact the HVAC pros at Jackson & Sons.