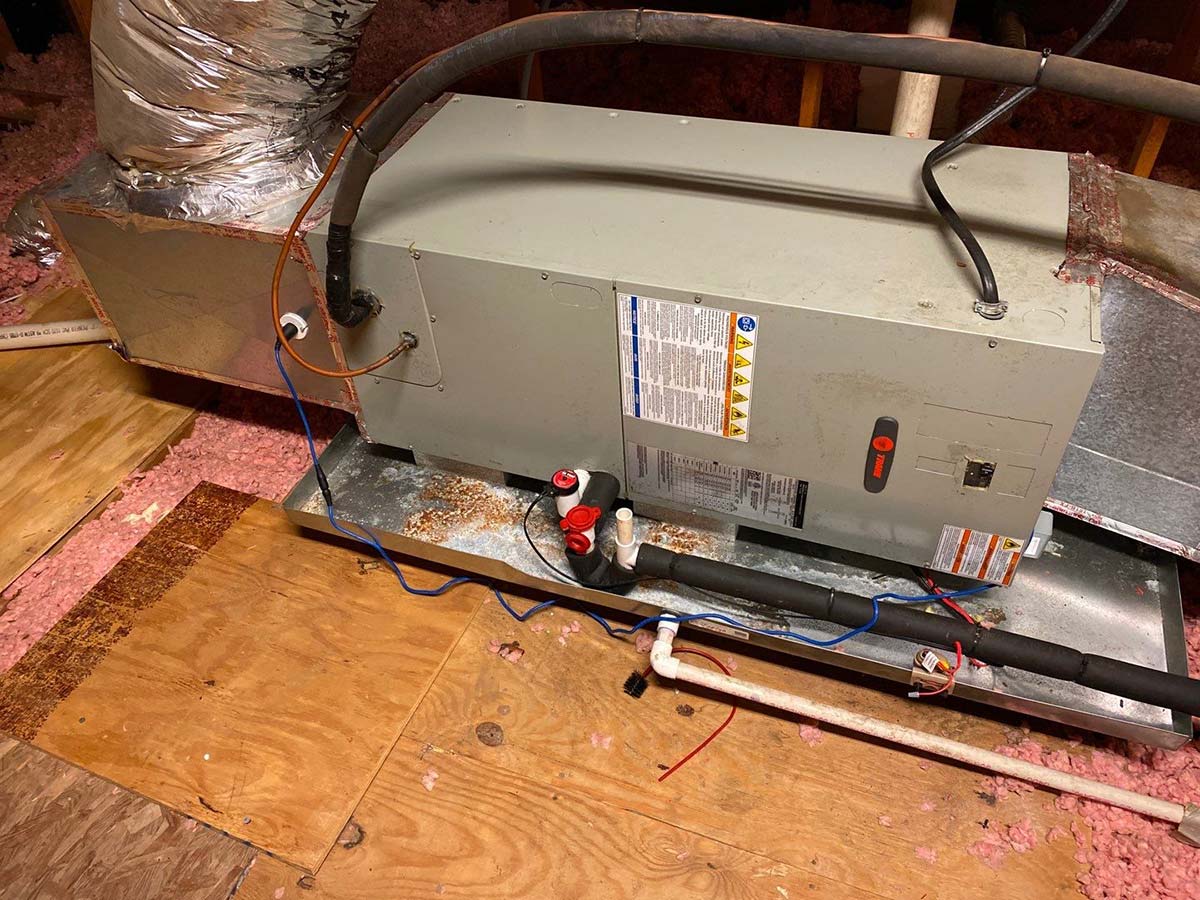 The condensate drain tube in your HVAC system can play an essential role in both your heating and cooling systems. Depending on the type of furnace and/or air conditioner installed in your house, a condensate drain line carries away liquid that is a byproduct of the heating or cooling process. Here's an overview of how these two units produce water and where that water goes.
Furnace Condensate
A high-efficiency furnace with an Annual Fuel Utilization Efficiency (AFUE) rating above 90 utilizes two heat exchangers: primary and secondary. This allows the furnace to extract more BTUs of heat from combustion of natural gas than a standard-efficiency unit.
During the high-efficiency heating process, furnace-combustion gases cool rapidly and condense, forming slightly acidic water. The volume of condensation generated varies according to furnace BTU input as well as humidity. Liquid condensate is collected in a plastic container, then flows by gravity through a condensate drain tube and is deposited outside the house.
A furnace-condensate drain system incorporates a trap that prevents hazardous combustion gases like carbon monoxide from entering the condensate drain tube and potentially leaking into the house. Inspecting, cleaning, and testing the drain trap is an important part of bi-annual preventative maintenance provided by a qualified HVAC contractor.
AC Condensate
As warm household air is drawn through the frigid air-conditioner evaporator coil, condensation naturally occurs. This water collects in a condensate drain pan located beneath the AC indoor air handler, then flows through a condensate drain tube typically connected to the household drain system. In humid summer weather, a standard central AC may produce up to 20 gallons of water daily.

Clogs in the condensate drain tube or drain pan — often caused by algae or mold formation — may trigger overflow and substantial water damage before the problem is noticed by occupants. Bi-annual inspection and cleaning/disinfecting of the AC condensate drain components is an essential element of professional preventative maintenance to prevent damage.

For more information about proper preventive maintenance of the furnace and/or AC condensate drain tube, contact the professionals at Jackson & Sons.

How to Get Rid of Allergens in Your Home: A Guide » « This Humidity Level Is What You Should Strive for in Your Home