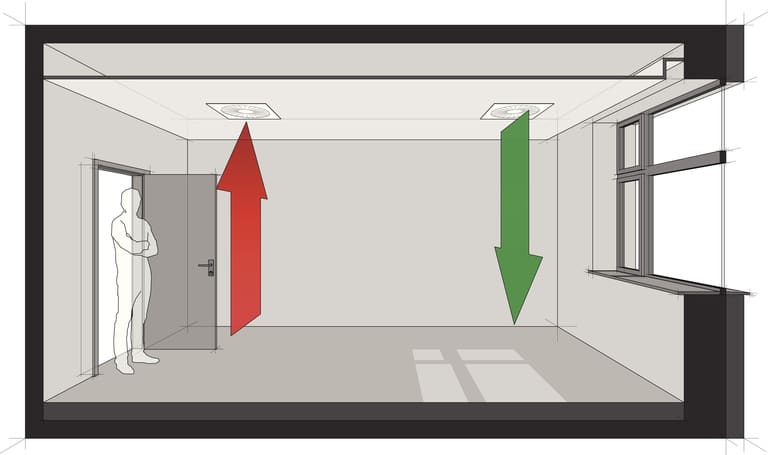 The principles of HVAC science are responsible for modern indoor comfort and a higher and healthier standard of living. For most people, reliable indoor temperature control is a simple matter of setting the thermostat and sitting back to enjoy the results.
A furnace makes heat. An air conditioner moves heat. Here's how these respective technologies get the job done with the help of HVAC science.
How Heating Happens Via HVAC Science
The furnace in your home utilizes both conduction and convection.
A typical gas-fired furnace generates heat energy by burning natural gas in the furnace's combustion chamber.
Heat in the combustion chamber conducts through the sealed metal heat exchanger into the HVAC system airflow.
The system blower distributes heated air throughout the HVAC ductwork, entering rooms through supply air vents.
Air is pulled out of rooms through return vents and circulated back to the furnace through return ducts for heating again. This circular process repeats until the thermostat setting is reached and the furnace cycles off.
Cycles of Cooling Via HVAC Science
An air conditioner doesn't add coolness to a house. It removes heat. Cool comfort is simply the natural state after heat energy is extracted from an enclosed space.
Central AC units utilize two coils that circulate heat-absorbing refrigerant. The evaporator coil in the indoor air handler absorbs heat from the flow of warm indoor air passing though the coil's passageways. As the cooled air flows through household ductwork, indoor temperatures drop.
Refrigerant flows through a conduit to the outdoor unit of the central AC, where a compressor concentrates the flow, converting refrigerant to a hot vapor.
Hot, pressurized refrigerant vapor enters the AC condenser coil. As its pressure drops rapidly, the refrigerant flow converts into a liquid and the coil releases heat extracted indoors into outdoor air.
The refrigerant loops back to the evaporator coil, morphing into a frigid blend of liquid and vapor. Inside the coil, the refrigerant extracts more heat from the household airflow, and the cycle of cooling repeats.
The certified heating and cooling professionals at Jackson & Sons are ready to help with all your HVAC needs.

What Is the More Efficient HVAC Unit: Electric or Heat Pump? » « Why Is HVAC Registration Needed When You Have a New Unit?