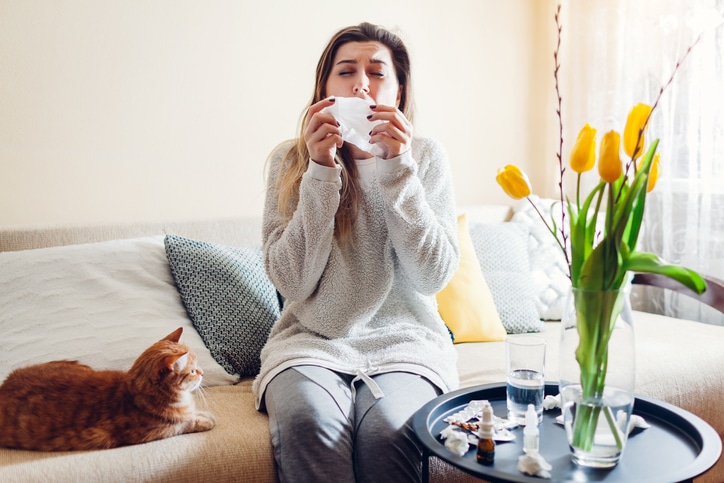 It's the season for dealing with spring allergies, but you have a helpful ally in this struggle that you may not have thought of. Consider this fact: Your HVAC system circulates the entire air volume inside your home multiple times every 24 hours. This air is not only heated or cooled per your thermostat setting, it's also filtered, and the humidity level is controlled. In addition, the HVAC system can also integrate other alternatives that combat spring allergies. To get the most out of your HVAC system and reduce the impact of allergens in your indoor environment, here are some suggestions:
Talk to your HVAC contractor about air-filter replacement. Make sure the contractor is aware of any issues with spring allergies in your household. While some recommendations say that filter replacement can be delayed as long as three months, where airborne allergens are an issue in a home, monthly filter changes may be more helpful. Ask about MERV (Minimum Efficiency Reporting Value) ratings that indicate filtration efficiency to make sure you're getting a quality, pleated cotton or polyester filter with a high MERV rating capable of removing airborne allergens.
Schedule HVAC Preventative Maintenance Tune Ups. Your HVAC system should receive professional maintenance during both the cooling and heating seasons. Spring/Summer maintenance not only ensures that your air conditioner is ready to handle the warm weather cooling load, but a qualified HVAC technician can also check system performance to verify that air circulation meets specifications for optimum filtration and that indoor humidity and other factors support healthy air quality.
Ask about available accessories. In a home where allergies are an issue, certain enhancements to the HVAC system can add additional protection. Your HVAC contractor can discuss the pros and cons of additions such as air purification products, dehumidifiers or humidifiers, UV light sterilization, and the addition of high-efficiency HEPA filtration.
For experienced advice about ways to use your HVAC system to combat spring allergies, talk to the professionals at Jackson & Sons.

What Is the Best AC Temperature in Warm Weather? » « How to Know If You Have Healthy Air in Your Home